As promised, I am writing a bit more this month now that I have been able to do some field work. After what seemed like a barrage of Covid tests I finally made it to Ghana. My first day of work began with a stakeholder meeting comprising members of the educational community from the region we are studying – Central Region/Cape Coast. Participants ranged from District Officers to Heads to Teachers. We discussed issues around lack of infrastructure in schools and whether artificial intelligence as a solution to accelerating the Sustainable Development Goal 4 was realistic. The consensus was an emphatic no.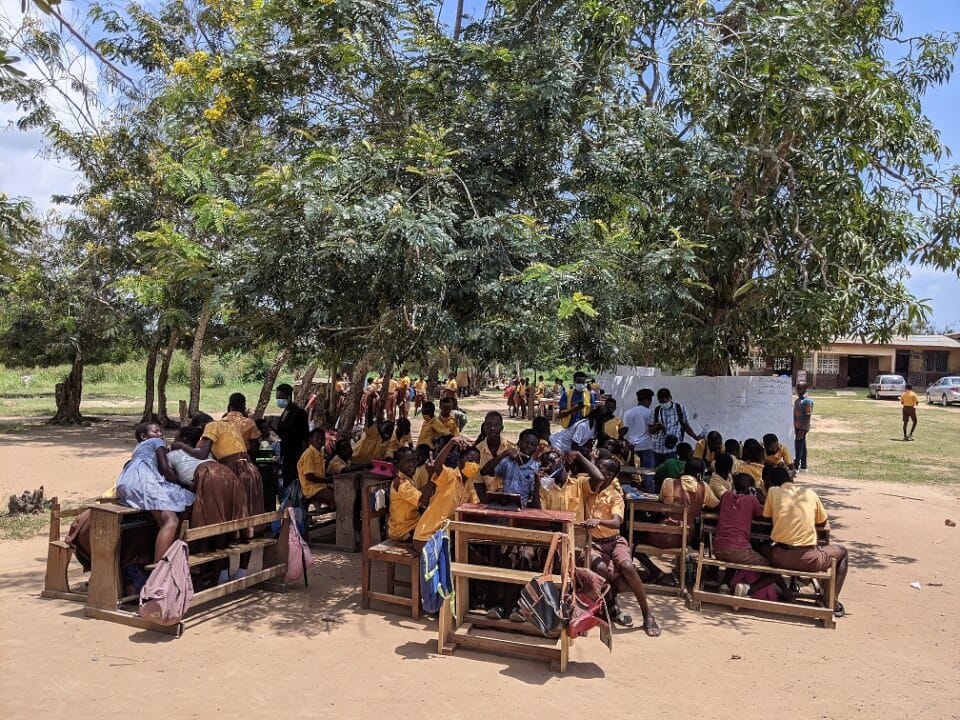 (Image 1)
Why? Because most of the schools in the area were under-resourced and needed more basic items before even adventuring into the benefits that AI could potentially bring (as well as the harms). For instance, schools did not have wi-fi connectivity, and no amount of letter writing to state officials or the private sector was doing any good in terms of acquiring the necessary materials to make the schools ICT ready let alone AI ready. Other schools did not even have adequate classrooms so students were tasked with learning about digital literacy under trees (Image 1). In short, the event was insightful in terms of making sense of what was happening in the public school system on the ground; it also allowed us to make connections with stakeholders which we would draw on over the course of the project.
A couple of days later we headed off to one of the first schools to deploy our survey. We drove for some time along a dust red path until we reached a junior high school. When we arrived we were warmly welcomed by the Head who had told the teachers and students of our arrival. Our first activity was introducing ourselves and then obtaining introduction from others. After this we spoke at length about the teaching of digital literacy which is part of the nationwide push for literacy as evidenced in the ICT In Education policy that landed in 2015. The ICT Initiative seeks to integrate ICTs into curriculum delivery in primary and secondary schools to improve access, quality, and equity. While we spoke about artificial intelligence, most of the teachers did not know what it was and wondered what the point would be if the basics were missing in the first instance.
In this school, there was one laptop owned by the ICT teacher who would bring the machine to classes to instruct his students on digital literacy. The other laptop belonged to the Head who used her machine for largely administrative tasks. In ICT class, the teacher would divide the students into groups of 6-9 so that they could have turns in groups at touching and using the laptop. There were two periods per week for ICT lessons totalling 140 mins. During each class, if they were lucky, 2-3 students might have the chance to actually use the machine. There was also peer mentoring which occurred where students who had already had the opportunity to use the computer in the past and often of their own accord helped their peers work through the details of the ICT curriculum. While students did have access to their own mobile phones, they were not permitted to bring them to school as there was no way for the school to block the content that students should not be accessing.
(Image 2)
All teachers used their mobile phones to locate subject content. The ICT teacher would use his laptop. Most of the teachers would find pictures on the internet they might use as visual cues for the topics they were teaching. One teacher showed a selection of science diagrams that he had printed out and laminated for use. They had no projector and no means of sharing digitally across the classroom so laminating was the next best option for him (Image 2).
Some teachers would simply pass their phone around for the students to see the images, or if teachers could not locate content themselves they would rely on others to send them pictures – to their mobile phones – through an app called Xender. Other teachers took it upon themselves to draw pictures to share with their class (Image 3). They also downloaded videos to show their students, and again because they did not have a projector, they would pass their phones around to each student group.
(Image 3)
The responsibility for paying for data rested on the teachers as the government did not allocate resources for such things. In this school there was no real infrastructure for ICT lessons, no wi-fi connectivity and certainly not sufficient computer equipment for meaningful ICT delivery, let alone capacity for AI.
Teachers spoke about how they have land but not infrastructure and materials for their ideal ICT lab if they had one which would contain a projector, some desktops and laptops, desks, chairs, flash drives, headsets, wi-fi and software so that they could prepare their students properly for the needs of digital literacy.
Private companies sometimes provided infrastructure for schools, but these tended to be on the rare side. For example, out of its social responsibility agenda, one Ghanaian bank built a school. When private institutions did get involved it was more often than not with the private schools that were already better resourced while public schools were left to write letters and proposals to the private sector and to NGOs as well as to the State to obtain assistance. This leads one to wonder about whether or not AI will exacerbate the digital divide rather than decrease it as proponents seem to suggest.
During our conversations, AI was not something that came across as a solution to the problems of education. More often than not, teachers did not know what it was. As one teacher put it:
It is the theory and development of computer systems able to perform tasks normally requiring human intelligence such as visual perception, speed recognition and decision making. AI is also the simulation of human intelligence processes by machines.
While another left it at this:
AI is an NGO that seeks to help Africans in terms of ICT in education.
Till next time!
Selena