What is Fair-AI?
The Fair-AIEd project is concerned with examining the impact of P3 (Public Private Partnership) initiatives on the use of AI in education in two African contexts (Ghana and South Africa) as examples of emerging market economies. As well as the implications that AI systems might have for teaching and learning, the project will investigate potential benefits, harms, and risks associated with the leadership roles that corporations play in design and use of AI within the educational practices of developing nations.
Potential impacts will be explored using ethnographic case-studies. Informed by data obtained in the field, stakeholders from industry, government, academia, and civic groups will co-design and build on existing impact assessments to develop an Algorithmic Impact Assessment tool that can be responsive to diverse populations. Using fair-ML as a point of reference, the framework will identify key cross-cultural values and social issues against which the implications of AI in education can be identified and evaluated. Design of the tool will incorporate a local adjustment resource to accommodate cultural, religious, or other sources of value differences that emerge from field work.
Stakeholders will also co-design and begin development of a Fair-AIEd Trust Mark. The Mark will be useful for the educational leadership of developing nations as they choose corporate partners and technical systems for their schools. Development and use of this tool will also provide guidance to companies who are willing to commit to the ethical principles upon which their educational technology proposals will be judged in terms of localising software and understanding regulatory compliance.
A key successful outcome of this project will lie in establishing a baseline for further research which seeks to understand the impact of AI in education.
This research is supported by the UKRI Future Leaders Fellowship scheme.
Dr Selena Nemorin
Dr Selena Nemorin is a UKRI Future Leaders Fellow and researcher/lecturer in sociology of digital technology at the University of Oxford.
Selena's research focuses on critical theories of technology, surveillance studies, tech ethics, and youth and future media/technologies.
Her past work includes research projects that have examined AI, IoT and ethics, the uses of new technologies in digital schools, educational equity and inclusion, as well as human rights policies and procedures in post-secondary institutions.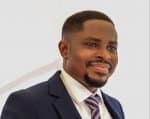 Dr Hayford Mensah Ayerakwa
Dr Hayford Mensah Ayerakwa is a postdoctoral Research Fellow at the Institute of Education, University College London.
Hayford's research focuses on digital technologies in education, social and economic impact assessments of P3 interventions on education delivery, production and consumption of educational technologies, and the intersections between technology adoption, willingness to pay and learning outcomes, happiness, and other educational welfare indicators.
His past work includes research on inclusion education, newly qualified teachers' teaching experiences, rural-urban food linkages and multi-spatial livelihoods, happiness, and impact assessment.